Let me show you a surprisingly simple, yet effective method to clean your wood floors. Zero-waste, non-toxic, no plastic but it works!s
This post contains affiliate links, which means I make a small commission at no extra cost to you.
I love everything that's simple. And I am still in the process of simplifying our life.
Cleaning is a necessity but it can be done in a simple but beautiful way. It can be done with being mindful about the materials and cleaners we use. And how we take care of our homes and environments.
These days, I feel constantly bombarded with ads for more and seemingly better products for everyday chores. But are they really better?
Our grandparents have had their methods to clean their wood floors. I think they worked pretty well. Old-fashioned is often more effective than something new-fangled.
Bonus points for when your cleaning routine is sustainable.
Let me show you my surprisingly simple method to effectively clean your wood floors. All the floors in our 1910 home are wood and I use this method to clean them all the time.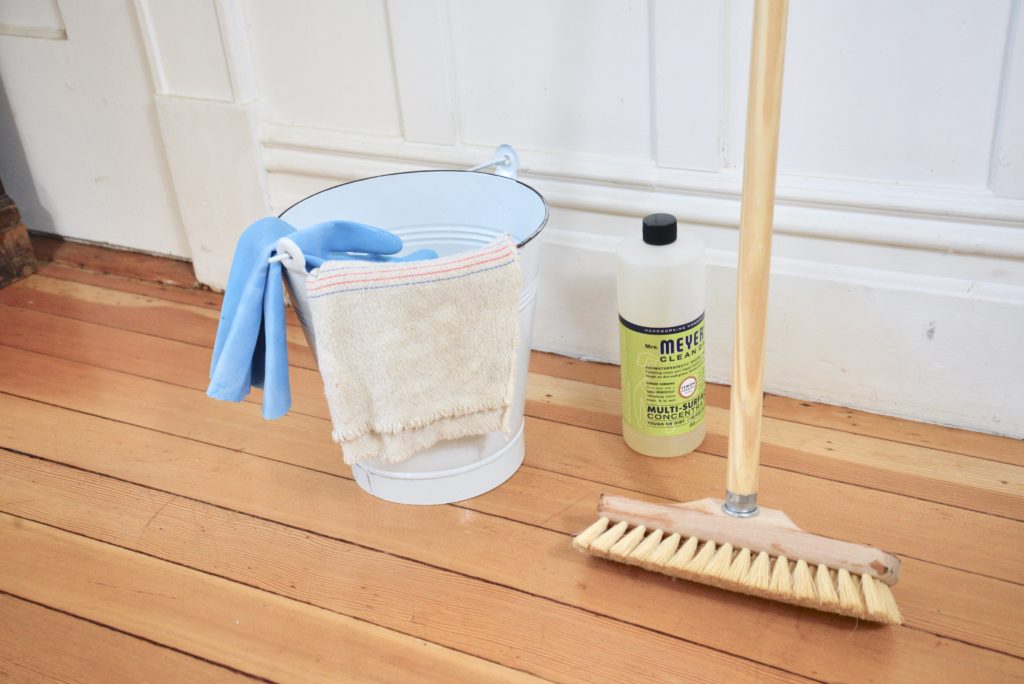 All you need
All you need is a wooden scrubber, a bucket, and a cleaning cloth. Really! That's all!
Those scrubbers have been around for a long time. Because they work. They have stiff bristles. Obviously, I like the natural bristles. Generations ago, they were used to scrub wood floors. Often, people would be on their knees working the floor one section at a time. That is why I have a scrub brush with a long wooden broom stick.
Next, you need a bucket or pail. There are many inexpensive plastic ones around. I like to invest in beautiful things that will last. Therefore, I have an enamel pail. I love the white color, the size, and how hefty it feels.
Lastly, you need a cleaning cloth. Obviously, you could use anything here. An old towel, for example. I am sure microfiber would work, too. Or any rag that you have sitting around (think re-purposing).
I love using a so-called cleaning cloth. The ones I use are made from cotton, they are heavy- weight, and you can throw them in the washing machine on the hot cycle! There are some that are a mixed material but I am a fan of the 100% cotton.
The Method
When you're ready, you fill your bucket or pail with warm to hot water and add your cleaner to it. In this video, I am using a commercial cleaner since that is what I still had. I will, however, post a recipe soon how to make your own with very basic, non-toxic, inexpensive ingredients.
I like to use latex gloves since my hands tend to get dry and cracked. But that may just be a personal preference. When you're using non-toxic cleaners you may not need to do this. I would definitely recommend using lates gloves, though, if you're using harsher chemicals.
Now you dip your cleaning cloth in the hot water, wring it out, wrap it around your scrubber brush and clean away!
Whenever you feel like your cloth has mopped up enough dirt and/or is getting too dry, simple place it back in the pail, move it around to loosen the dirt, wring it out and continue cleaning.
Once you're all done, rinse your cleaning cloth really well and hang it to dry. Every so often, you'll want to throw it into your wash and it'll come out all nice and clean. These cleaning cloths will last for years!
So you see, there is no plastic involved, no harsh, toxic chemicals but your floors will be all clean and shiny.
Click on the the products below to find out where to find them:
wood scrubber brush or similar on amazon
BONUS: Get your FREE Printable Spring Cleaning Guide HERE.
I always love to hear your cleaning routine! Please leave your questions and comments below!