How to Make Cinnamon Salt Dough Christmas Ornaments
These DIY Cinnamon Salt Dough Christmas Ornaments are very easy to make with everyday ingredients. This is a great activity for children.
We just celebrated Thanksgiving and as is tradition in many families, the Thanksgiving weekend is the time to kick off the Christmas season. Many people go out to buy their Christmas tree – if they use a live one. Then, they love to gather for tree-trimming parties.
This post contains affiliate links, which means I make a small commission at no extra cost to you. You can read my full disclosure.
My German Christmas traditions
Since I am from Germany, there is a nice blend of German and American traditions in our gabled home.
I love the Christmas season! I love our home when it's all decorated for the holiday season.
Thus, it has been easy for me to adopt many New World traditions.
Growing up, my father brought the Christmas tree in on December 24th and my mom decorated it behind closed doors.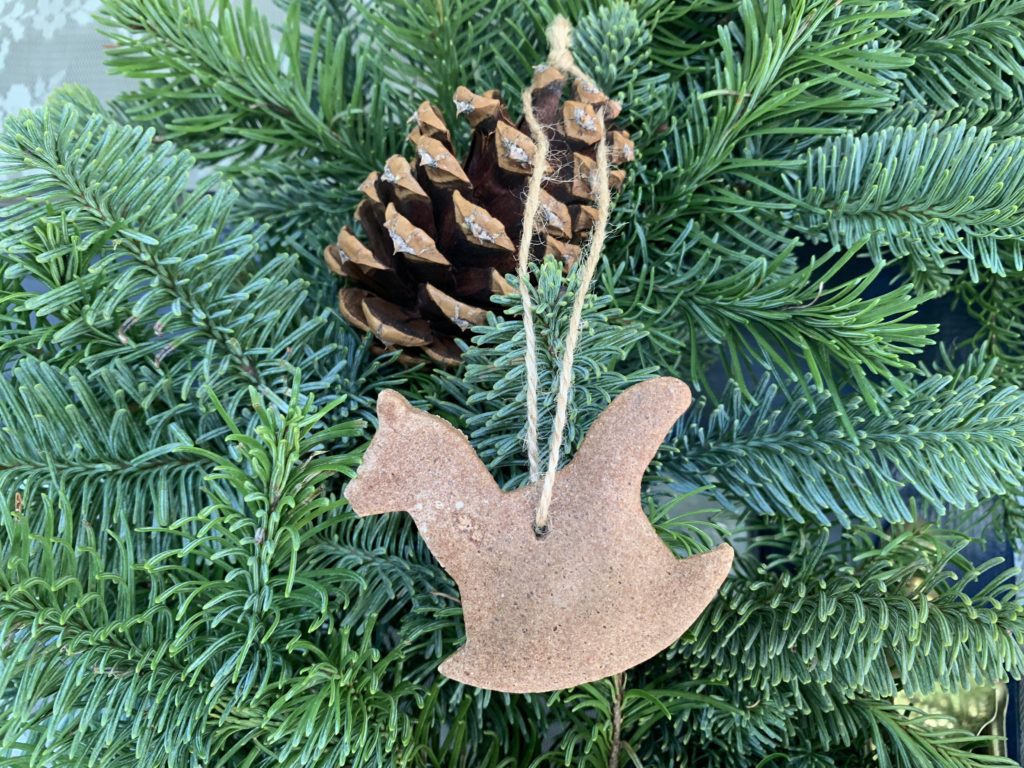 Why You'll Love These Christmas Ornaments
This is where these beautiful DIY cinnamon salt dough Christmas ornaments come in.
They check all the boxes:
They are simple to make
Cinnamon salt dough ornaments are just so beautiful
They are made from healthy ingredients, and
Yes, they are very sustainable and reusable
History of Salt Dough Ornaments
Have you ever seen one of those paper angels that are supposed to cover keyholes? Yep! Those would be used to cover the keyhole to the living room so that they children couldn't get a sneak preview of the decorated Christmas tree.
Fortunately, my family never did this decorating behind closed doors but the tree was part of the Christmas eve "surprise".
Most years, I am totally in love with our Christmas tree. Actually, it's too bad to only have it up for 12 days. The tradition of trimming the tree on the Thanksgiving weekend was an easy one for me to adopt!
While we don't have an official tree-trimming date, we like to get it up early so that we can enjoy it during the holiday season.
The Ingredients
The salt dough only requires a few ingredients that you probably already have in your house:
Helpful Tools and Equipment
Medium mixing bowl
Rolling pin
Cookie cutters
Tooth pick or skewer
Silicone mat or parchment paper
Cookie sheet
How to Make them
In a medium bowl, simply mix these ingredients with water. Knead them into a uniform dough.
Let the dough sit in the refrigerator for about one hour.
Remove the dough from the refrigerator.
With a rolling pin, roll it to about ¼ to ½ inch thickness. Poke a hole into the top of the shape with a toothpick. That is for putting a string through it.
Cut out shapes. You can freeform them or use Cookie cutters. Place them on a cookie sheet lined with a silicone mat or parchment paper.
Bake them at 225˚F for about one hour or until firm.
Let them cool down on a wire rack.
These DIY cinnamon salt dough Christmas ornaments look great on your tree, especially if you like a more rustic or farmhouse look.
Furthermore, they make great stocking stuffers or decorations for Christmas presents. Or why not use them as decoration around the house?
DIY Cinnamon Salt Dough Christmas Ornaments
These DIY Cinnamon Salt Dough Christmas Ornaments are very simple to make with everyday ingredients. This is a great activity for children, too.
Ingredients
1

cup

all-purpose flour

½

cup

sea salt

⅓

cup

cinnamon

½

cup

water
Instructions
In a mixing bowl combine all the ingredients.

Knead well. Refrigerate for about 1 hour.

Roll out dough to about 1/4 – 1/2 inch thickness. Cut out shapes. Make a small hole in to top with a tooth pick.

Place shapes on a cookie sheet and bake for 1 hour.

Remove baking sheet from over, flip all the ornaments and bake for another hour, until very firm.  Let cool. 
Video
Other DIY Christmas tutorials:
Pin For Later: