Find out how easy it is to make German quark – a very versatile, fresh cheese similar to ricotta or cottage cheese.
We love making cultured dairy and quark is one of them.
Maybe you have visited Germany and seen it there or have heard of it.
If you haven't, let me introduce this delicious fresh ricotta-style or cottage cheese-like product to you!
This post contains affiliate links, which means I make a small commission at no extra cost to you. You can read my full disclosure.
What is quark:
According to Wikipedia, quark is "a type of fresh dairy product […]. It can be classified as fresh, acid-set cheese. […] It is soft, white, and unaged, and usually, has no salt added."
Quark is very popular in Germany and other European countries where it only costs pennies in supermarkets.
Since it doesn't have a very strong taste, quark lends itself as a launching pad for many other recipes but I actually like it on its own, too!
You might have a hard time finding it here in the US. If you find it, you might be surprised at its high price point. Therefore, I love making my own!
What you need to make quark:
First and foremost, you will need buttermilk.
You can easily find it in grocery stores but make sure it is cultured buttermilk!
Or, you make your own which is very easy to do. You can read my tutorial on how to make real cultured buttermilk from the raw milk that we get.
You can also purchase buttermilk cultures and simply follow the directions.
Other supplies:
I like to keep my freshly made buttermilk in mason jars.
Also, you'll need a colander and a big bowl for collecting the whey. You will get a lot of whey!
Then you will need a cheesecloth or 2 paint strainers. I have been using both successfully.
And lastly, you will need some wooden cooking spoons, spatulas, or wooden butter paddles. Keep reading to find out why and how I use them!
How to make quark:
Set your oven to 120˚F and simply place your buttermilk in the oven. Again, I prefer glass containers or mason jars for this. But you could also use a glass bowl or any other container.
Since cultured buttermilk is somewhat "alive", it is never exactly the same. For that reason, I always recommend keeping a close eye on your ferments.
Having said that, I like to check in with my buttermilk after about 1 hour. But I have also left it in the oven for about 2 hours.
How to tell when your quark is ready:
You will know that your quark is ready when it is separating from the whey. The whey will be sitting on top and on the sides. You might also see little "pockets" of whey on the sides.
This separation happens because of the curdling.
Once this is happening, you will want to pull your curdled buttermilk out of the oven. I have accidentally overdone it and my quark ended up much tougher, almost cheese-like.
Straining the quark:
Now, that your curdled buttermilk is ready, you need to strain it.
My favorite set-up is placing the butter paddles (or wooden spoons or spatulas) over the center of a large bowl.
I set the colander on these butter paddles, spoons, or spatulas.
Then I line the colander with either the cheesecloth (doubled-up) or 2 paint strainers (also doubled up).
Simply pour the curdled buttermilk into the cheesecloth or paint strainers. The whey will instantly drip into the bowl beneath.
Strain the quark overnight. If you prefer it softer, some 6 hours might be enough. If you like it firmer, you might like to strain it for about 12 hours.
2 quarts of buttermilk will make a bit more than 1 pint of quark and a bit more than 1 quart of whey.
The nice thing about the cheesecloth is that you can tie it in a knot and hang it from the knob of the upper kitchen cabinets. This will get you a drier, firmer quark.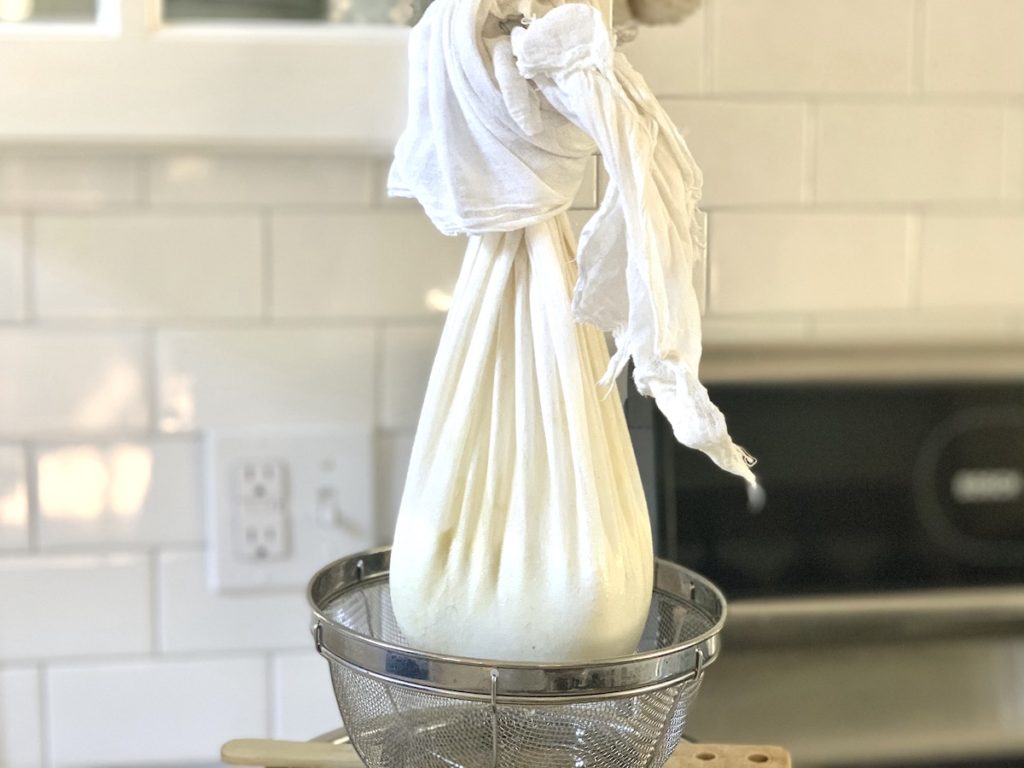 Storing the quark:
Definitely, cover and keep your quark in the refrigerator until you are ready to use it.
We love making quark from the buttermilk that we make from our raw milk. I find that it keeps for about 2 weeks in the refrigerator and possibly longer.
I have not made quark from buttermilk from pasteurized milk or from store-bought buttermilk for a long time. It is possible that it would last longer.
How to use your German quark:
You can enjoy quark on its own, straight from the jar. I do!
You can add fruit and/or sweeteners to it as a light dessert or breakfast. You can eat it just like you would eat yogurt.
Quark can be used like you would use ricotta or cottage cheese. You can put it on bread, toast, or baked potatoes. Many Germans love to have it for breakfast on their bread. There is a popular German dish in which you serve quark alongside boiled potatoes, flaxseed oil, herbs, and chopped onions.
Or you can make a German-style cheesecake with it that is just as delicious as its American cousin but a lot lighter. Stay tuned for next week's post in which I will share that recipe!
Shop this post:
Wooden butter paddles: https://amzn.to/3oPSzM2
Cheese cloth: https://amzn.to/3sBHSiD
Paint strainer: https://amzn.to/39Ipqw4
Buttermilk cultures: https://amzn.to/38PBwEh
Quart-size mason jars: https://amzn.to/3bWiQoa
Pint-size mason jars: https://amzn.to/3qoh6bo
Have you made quark before? Let me know in the comments below!
Pin For Later: