Old-Fashioned Kitchen Tools I Actually Use
Oftentimes, old-fashioned kitchen tools are more decor but in this article, I am sharing the ones that I actually use often or daily.
Do you like old-fashioned, antique, and vintage as much as I do?
Do you like to have a practical approach to everyday life?
Then, this post is for you!
I will share with you the kitchen tools that are old and that I actually use a lot. You see, way back when, things were made to work and to last. Sometimes, I think that old-fashioned kitchen tools work better than modern ones. Sometimes.
As you will see, most of the items I am mentioning are family heirlooms. If you are interested in acquiring vintage or antique kitchen items, you can often find them in thrift stores or on Etsy or ebay. At the end of this post, I will give you resources to find similar items you can just buy on the internet.
This post contains some affiliate links which means I make a small commission at no extra cost to you.
Old-fashioned Wooden spoons
Every kitchen needs a collection of wooden spoons. At least in my opinion. I have some that I have had for a long time and some that I inherited.
Old wooden spoons tend to be made of harder, denser, more durable wood. Often, newer wooden spoons are made from lighter woods. Therefore, these antique spoons will last a long time.
I have some wooden spoons that are so well-loved and worn. I use them a lot and often even put them in the dishwasher. And still, they hold up.
Some of my favorites are hand-carved by a family member. Maybe it was even my dad. And since we cook a lot with cast-iron cookware, I don't like the scraping sound of metal on the cast iron. Wooden spoons are perfect for that. Some even function as serving spoons.
The big one in the photo is another hand-carved scoop. I use that to scoop flour from the 50-pound bag that we like to buy into a smaller container that I keep in one of my kitchen cabinets.
Cast-iron waffle maker
Well, you already know how much we love and use cast iron cookware in our homestead kitchen.
Another item that gets a lot of use is this family heirloom cast-iron waffle maker. While we use it on a gas stove, I don't know how well it would work with electric stoves.
You simply fill the batter in, set the waffle iron on the hot burner, and resist the temptation to open it too soon. Then, it will just release the waffle – all without weird and toxic non-stick coatings.
We love it for our sourdough waffles.
What I love about family heirlooms is that there is often a lot of history and lore. In the case of my waffle maker, I learned that my cousin and his brother were using this as children in the sandbox when they were living at my grandparents' house.
Hand-crank butter churn
This is another item that is fun and practical: a manual butter churn. Even though it takes a bit more time and effort to make butter this way, it is still surprisingly fun.
There is something about the old mechanical mechanisms that simply works well and very efficiently.
Unfortunately, I broke the glass of my family heirloom butter churn and have since then been on a quest to find a replacement. At one point, I thought I had found one only to realize that it did just not quite fit. Given that it is an heirloom from Germany where I was born and raised, it is a bit of a challenge to find the right replacement glass here in the US.
So, if you happen to have or know about a replacement glass that would work for my butter churn top – I would love to hear about it!
Carbon knives
These are by far my favorite knives! They are made from carbon steel, not stainless steel. Therefore, they stay sharp longer, are easier to sharpen but will tarnish and rust if left in prolonged contact with water and/or acids (lemon juice, vinegar, etc). You don't want to put them in the dishwasher, either!
In a way, I call them the "cast iron" of the knives as you can't let cast iron be exposed to moisture for long and they take a bit of different care from stainless steel cookware.
I use one paring knife in particular so much that it stays out on the counter and barely ever goes in the drawer.
If I do have to sharpen it, I will simply run it over the honing steel or knife sharpener a few times and it's very sharp again.
In Germany, we say if it "doesn't rust, it's not sharp" ("rostet nicht – schneidet nicht") and I think that sums it up.
Mezzaluna
Another family heirloom is this mezzaluna which is a rocking knife with two blades. I love it for chopping herbs. The one I have has two blades that make the job even more efficient. It's also quite hefty and big being perfect for big hands.
Since we grow many herbs in our garden, we enjoy adding them to our meals and this rocking knife makes chopping them really fun.
Old-fashioned Tea kettle
As I said above, we have a gas stove in our homestead kitchen and we use a classic stainless steel tea kettle to boil water for coffee and tea.
The one we have has a copper bottom which is very heat conducive. It holds at least a quart if not more water that we can then bring to a boil in a very short amount of time.
Manual wooden coffee grinder
We do own an electric coffee grinder but I have to say that I enjoy grinding coffee beans by hand. Also, my coffee does taste better with my manually ground beans.
I found this wall-mount coffee grinder in my grandparent's attic and it could well be 100 years old. They were fairly popular in Europe at the time.
Again, this is another mechanical item that is very well made and works very efficiently.
Unfortunately, we have not yet mounted it on the wall. It took us a while to find the right spot. Now we suspect electrical wires behind that spot. We need to figure out where exactly they are before we mount the coffee grinder there.
Linen apron
If you've been following me for a while, you may have seen me in this linen apron that I made some years ago. It is not only pretty but also very practical. With no ties, you simply slip it over your head.
The main purpose of an apron is to protect your good clothes from stains and splatters.
It has pockets in the front for your hands, your keys, or your smartphone. Or anything you like to keep close by. And linen is the perfect sturdy farmhouse fabric.
This is the sewing tutorial. You can also check out my FAQs and the printable pattern.
Cast iron cookware
Enough said.
Nothing is more practical, useful but old-fashioned than cast iron cookware. We use it for 95% of our cooking. The more I use it the more I love it!
I am not going into it in this post but you can read about how to take care of your cast iron cookware and how my husband built a custom wall rack for all of our skillets and dutch oven.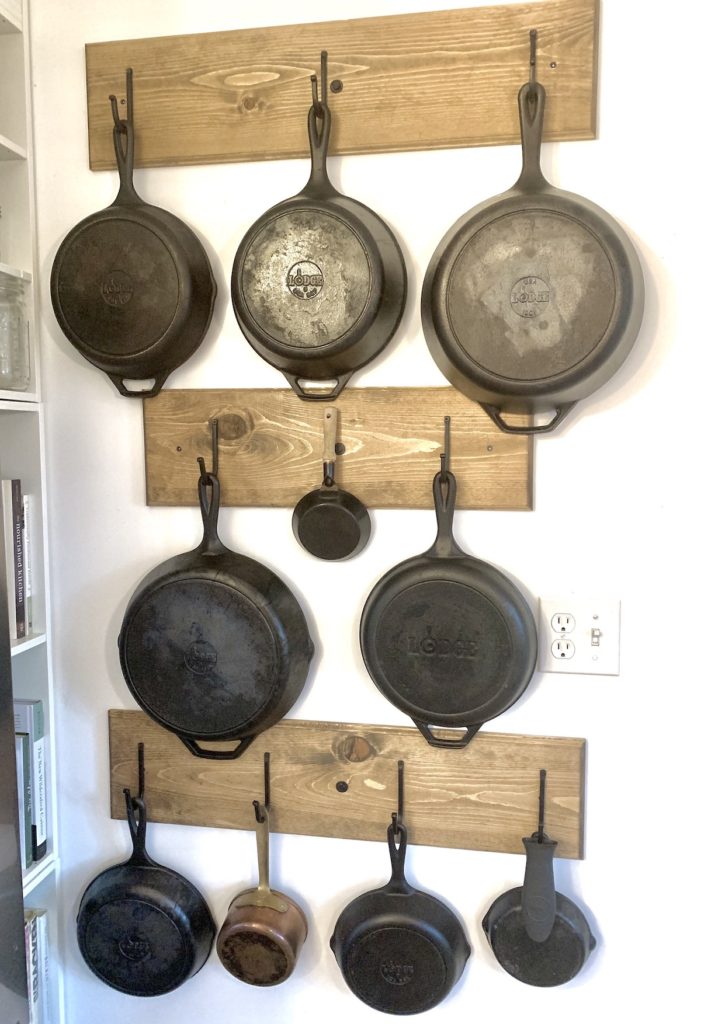 How to find similar items:
Like I said above, not everyone has family heirlooms or luck finding them out there i thrift stores, on Etsy or ebay.
Here is a list of similar, new items:
Stainless steel kettle: https://amzn.to/3mNTCe8
Cast iron waffle maker: https://amzn.to/2I2HMNV
Hand-crank butter churn: https://amzn.to/3l5Yj2B
Carbon knives: https://amzn.to/2HVgYiS
Mezzaluna rocking knife: https://amzn.to/2TMWuvf
Tea kettle: https://amzn.to/3jS7QZx
Manual wooden coffee grinder: https://amzn.to/3kYCzpi
Other posts you might like:
Best Gift Ideas for Homesteaders
Is it Safe to Use Antique and Vintage Kitchen Items?
How We Created Our Urban Homestead
Best Essential Oils for Homesteaders
Do you have any favorite old-fashioned kitchen tools that you use? I'd love to hear from you!
Pin For Later: