31+ Easy Handmade Christmas Gifts 2022
Check out these handmade Christmas gifts. Most of them are quick and easy projects that you can give to loved ones!
Are you looking for handmade Christmas gifts – that you can still make before Christmas?
I don't know about you but in my family and circle of friends, people tend to have exactly what they need. And if they don't have it, they don't need it. That leaves me wondering every single year what to get them (I think my husband is the worst …).
Enter homemade Christmas presents!
You will love this list because all of these DIY Christmas gifts are pretty quick and easy to make – even if you're reading this last minute before Christmas.
This post contains affiliate links, which means I make a small commission at no extra cost to you. You can read my full disclosure.
Why handmade Christmas presents?
Everyone loves handmade gifts. DIY presents are unique but best of all, there's is something directly from you in them.
Anyone (with money) can go to a store or even online to purchase some gifts.
However, nothing says more about your love for people than you pour your time and effort, and thought into making something with your own hands. And they are a great way to make unique gifts for your family members or friends.
In this blog post, I am showing you some beautiful gifts that don't need much time to make. They also make great stocking stuffers!
I. DIY Christmas Gift Ideas for the Kitchen
Here are some great Christmas presents for cooks and bakers:
Dehydrated Sourdough Starter
Even though it feels like everyone is baking with sourdough these days, I know there still are people who would like to but haven't started yet. If you have someone like that on your list, giving them a dehydrated sourdough starter is a great gift idea. As opposed to a jar of fresh sourdough starter, with this one you can send it in the mail or leave it in a cute box out until Christmas.
I have a detailed tutorial on how to dehydrate your sourdough starter. All you need to do then is print out the instructions for them to get it rehydrated.
Fabric Bowl Covers
What's not to love about these? Everyone who loves to bake often needs to cover a bowl to let some dough rise. Ideally, you find out what that baker's favorite bowl is so you can custom-make a cover or make different sizes. I have step-by-step instructions on how to sew a fabric bowl cover. Obviously, you need a sewing machine for those. Please read below for more homemade Christmas gift ideas for every skill level.
More homemade gifts for the kitchen:
II. Homemade Food Gifts
These are great holiday gifts for the foodies and gourmets on your gift list . But I find that edible Christmas gifts are always welcome by anyone on your Christmas list!
Quince Jelly
You probably won't find fresh quince by the time you are reading this post. No worries! If you love home canning and jam-making, you most likely have some jars of homemade jam somewhere. All you need to do is put it in a nice mason jar, wrap it nicely and that's always an easy project.
You can check out how to make quince jelly. Or learn how to make elderberry jam. If you don't have any fresh fruit, you can always use frozen fruit to make some jam or jelly.
More edible Christmas gift ideas:
Gluten-free Sourdough Blueberry Muffins
II. DIY Skincare Presents
Maybe I am biased but I always think that it's easier to find gift ideas for women than for men. But please correct me if I am wrong! However, these days more and more men use some skincare or other.
Homemade Hand Cream for Dry Hands
This is great for anyone who works with their hands. I know that I am prone to dry hands and cracked skin in the winter months, so I use a lot of this homemade hand cream. By adding lanolin, it is extra soothing. You could even transfer this cream to small tins for a homemade lip balm.
Herbal Face Wash
I actually use this homemade face wash pretty much every day. It is mild enough for mature and dry skin but also removes makeup. You can customize the herbs you are using for the recipient's skin concerns. Or you can use different essential oils.
Anti-Aging Face Serum
You will love this anti-aging face serum, too! I personally think it is just as effective as some store-bought products but wayyyy cheaper. Plus, you can customize it to your or your recipient's skin concerns.
More handmade skincare:
III. More Handmade Christmas Presents
Water bottle cover
If your recipient lives in an old house as we do, they might appreciate something to keep them warm. While you might have to purchase the hot water bottle, you can knit the hot water bottle cover.
Other handmade Christmas gift ideas:
IV. Handmade Holiday Gifts
These easy DIY Christmas gifts are specifically for holiday cheer around Christmas time – but of course, any time of year is great, too.
Homemade Cinnamon Star Cookies
These German cinnamon star cookies only require 4 ingredients and never last long in our house. You can either gift them alone or with a sampling of your other homemade Christmas cookies.
Salt Dough Ornaments
These cinnamon salt dough ornaments smell wonderful and are the perfect DIY Christmas ornaments. You can also use them to tie them around your Christmas presents.
More handmade holiday gift ideas for the Christmas season:
Lebkuchen | German Gingerbread
Wrapping your Homemade Christmas Gifts
While we are far from perfect, I am always thinking about how I can be more sustainable. If I can, I will use recycled wrapping paper, even for store-bought gifts.
You could find cute tea towels and wrap your homemade Christmas gift in that. The great thing is that the wrapping is part of the present.
Another idea is to use cloth bags to wrap your lovely gifts. Just tie a cute ribbon around it and voilà!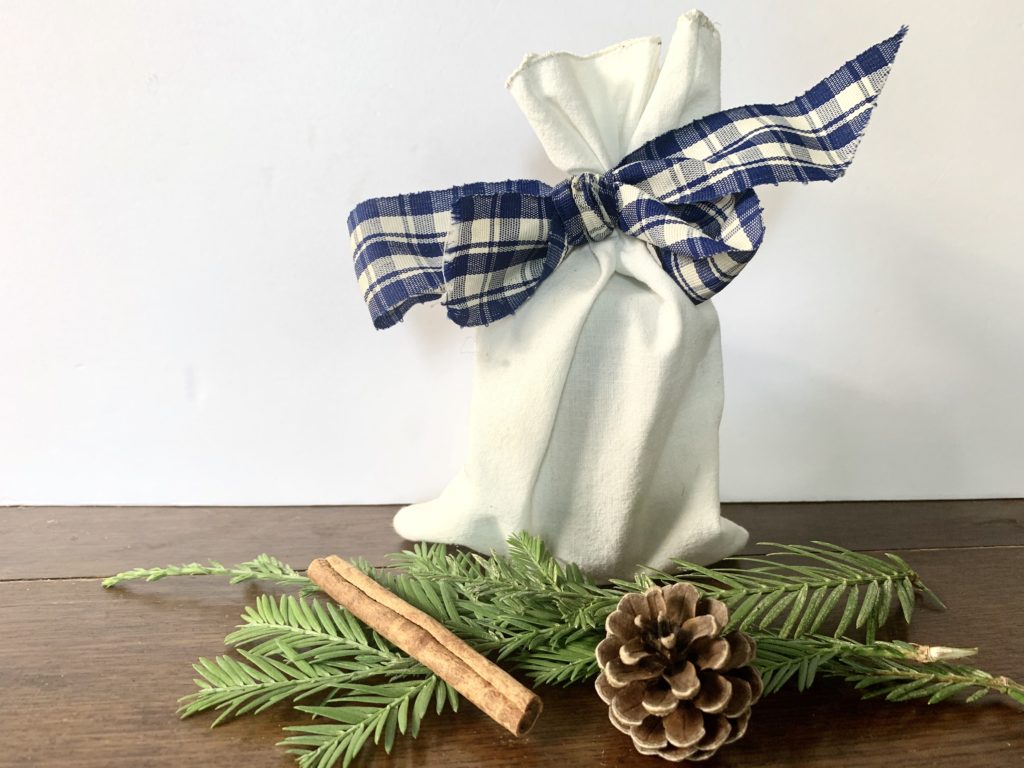 What are your favorite handmade Christmas presents? I'd love to hear from you in the comments below!
Pin For Later: