Check out these handmade Christmas presents. Most of them are quick and easy projects. People will love knowing that you poured your love into them!
This post contains affiliate links, which means I make a small commission at no extra cost to you.
I don't know about you but in my family and circle of friends, people tend to have exactly what they need. And if they don't have it, they don't need it. That leaves me wondering every single year what to get them (I think my husband is the worst …). Enter handmade Christmas presents!
Why handmade Christmas presents?
Everyone loves something handmade. DIY presents are unique but best of all, there's is something directly from you in them. Anyone (with money) can go to a store or even online to purchase some gifts. However, nothing says more about your love for people if you pour your time and effort and thought into making something with your own hands. Lets check out some ideas:
Homemade Candles
Making candles at home is very simple and quick to do. I have a detailed tutorial showing you how to make them.
You can make them either from soy wax or bees wax. You can even "stretch" them by adding coconut oil to them. I love melting the wax in these little tea light holders from Ikea but you can use little mason jars, as well. For an extra-special touch, you can add essential oils. That could be a seasonal blend, some lavender, or a blend to help you breathe better. Once the candle has been burned, the tea light holder or mason jar can be re-used. How cool is that?
DIY Body Wash
People will love this because everyone can use it. You will love making it because it is so simple and quick to make. Check out this tutorial.
The ingredients are very easy to find: liquid castile soap and jojoba oil and can serve many different purposes when you buy the larger sizes and don't use it all up. For sensitive people you can leave it at that. Otherwise, you can add essential oils. Anything citrus or grapefruit is very refreshing in the morning. For men, you can add some eucalyptus and fir needle essential oils. Adding lavender essential oil is always nice, especially for children.
The borderline hoarder in me always saves bottles so I might reuse them for this handmade body wash. Alternatively, you can get some pump glass bottles or a travel-approved squeeze bottle online.
Homemade Jam
Most people will love anything edible. Maybe you made some jam this summer. I tend to make so much that I always have enough to give some away. Even if you didn't, you could get some fruit or depending on the season get some frozen fruit.
Mason Jar Cozy
Making a mason jar cozy is another relatively simple project for people like me who run around with their tea in their mason jars. I like that I can repurpose an old sweater for this one. I am also thinking about making a tutorial for a knitted cozy.
DIY Beeswax wraps
Everyone loves beeswax wraps and they are also so easy to make! In case you haven't seen them before: they are re-useable cloths coated in beeswax (pine resin and jojoba oil) and you can use them just like cling-wrap.
As you can see from the various project above, I always have beeswax and jojoba oil in my house. Other than that, you need some pine resin – and fabric. Any fabric will work. I like to use cute prints. If you know the person well that you want to give this to, you might know if they have a favorite color or theme in their kitchen (for example, my cousin loves anything with dots).
Make your own Herbal Tincture
We love having herbal tinctures around our house. Before or after a a heavy meal you can take a digestive bitter. If you have a friend or family member with a specific health concern, you can customize the herbs to that. They will really appreciate that!!
Homemade Cookies
Maybe you have a family recipe for cookies. If you don't, you will easily find recipes in cookbook or online. If you have children, you might like to have them help you bake and decorate those cookies. That is such a fun afternoon activity!
Re-useable Cloth Bags
I always bring a bunch of these cloth bags with me when I go shop the bulk section of the grocery store. Here's a quick tutorial for those. Most often, I make them from a tired table cloth or tea towel or other left over fabric. It could be cute to use the matching fabric for the cloth bags and the bees wax wraps. Depending on the age of your children, they could help with this, too.
Wrapping your Homemade Christmas Gifts
While we are far from perfect, I am always thinking about how I can be more sustainable. If I can, I will use recycled wrapping paper.
You could find a cute tea towel and wrap your homemade Christmas gift in that. This way, the wrapping is part of the present.
Another idea is to use the cloth bags to wrap the present. Just tie a cute ribbon around it and voilà!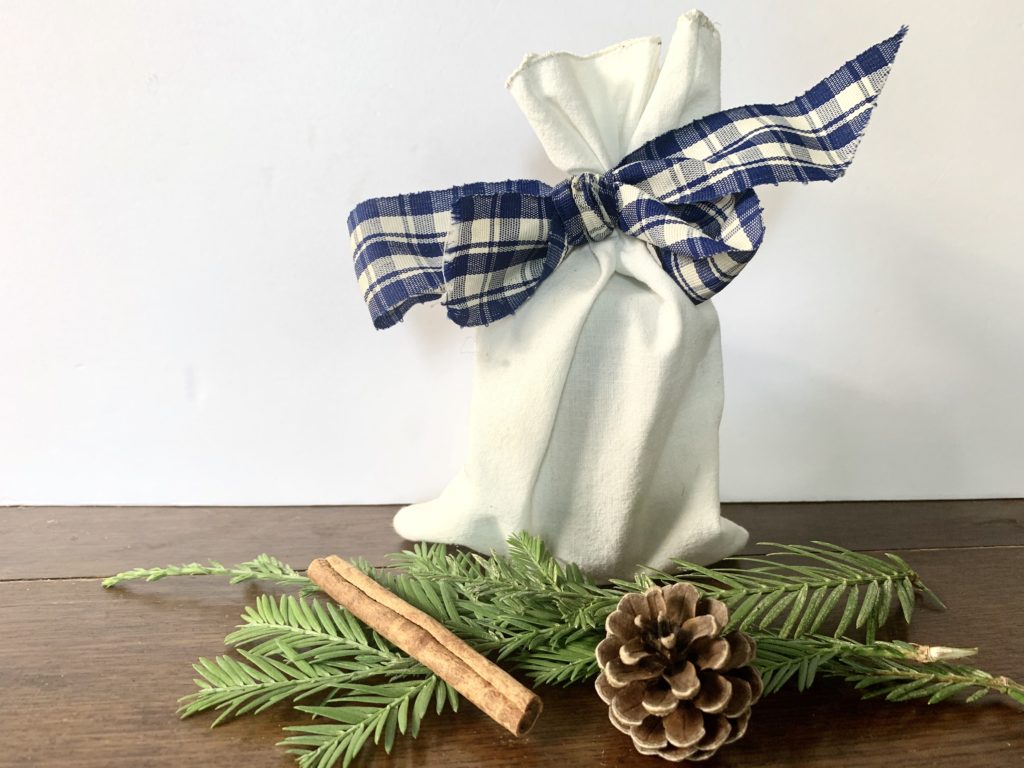 What are your favorite handmade Christmas presents? I'd love to hear from you in the comments below!
Pin For Later: